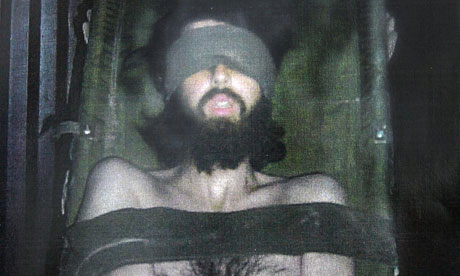 On this day in
1149
, the reconstructed Church of the Holy Sepulchre is consecrated in Jerusalem.
***
On this day in
1741
, Russian explorer
Aleksei Chirikov
sights land in Southeast Alaska. He sends men ashore in a longboat, making them the first Europeans to visit Alaska.
***
On this day in
1799
, French military captain
Pierre-Francois Bouchard
discovers the
Rosetta Stone
in an Egyptian village. The large stone tablet is essentially a Greek/Egyptian translation dictionary using three scripts: Hieroglyphic, Demotic Egyptian and Greek. Greek being relatively well understood, the stone was the key to deciphering ancient Egyptian hieroglyphs, including such rules of grammar as "feather before squiggly line, except after bird."
***
On this day in
1869
, everybody's third-favorite toast spread – margarine – is patented in Paris, for use as a butter substitute by the French Navy. It is neither healthier, nor is it better tasting, than butter, but it does serve nicely as an inexpensive lubricant for anal sex. How ironic, then, that it should be made with "rape seed oil."
***
On this day in
1964
, Republicans nominate arch-conservative, extremist Arizona senator
Barry M. Goldwater
for president, thus ensuring the election of Texas Democrat
Lyndon B. Johnson
by one of the widest margins in electoral history.
***
On this day in
1974
, Ohio morning news personality
Christine Chubbuck
goes on the air and says: "In keeping with Channel 40's policy of bringing you the latest in blood and guts, and in living color, you are going to see another first: an attempted suicide." She then pulled a .38 revolver out from underneath her desk, put it to her head and pulled the trigger, thus becoming the first person to commit live, publicly broadcast suicide.
***
On this day in
1979
, US President
Jimmy Carter
gives his so-called malaise speech, where he characterizes the greatest threat to the country as "this crisis in the growing doubt about the meaning of our own lives and in the loss of a unity of purpose for our nation". Funny thing about that speech, not once does he use the word "malaise".
***
On this day in
1983
, a terrorist attack is launched by Armenian militant organization ASALA at the Paris-Orly Airport in Paris, leaving 8 people dead and 55 injured. That's right, Armenians! Betcha didn't think they had it in 'em!
***
Preznit Dubya
's "Total Information Awareness" guru
John Poindexter
– the biggest Big Brother yet – spent this day in 1987 telling lies to the Congress during the Iran-Contra hearings. He would ultimately be convicted of conspiracy, lying to Congress, defrauding the government, and destroying evidence in the still poorly-understood guns-for-drugs-for-hostages-for-blood scheme dreamed up in the White House basement during the Glorious Reign of
Ronald, the Reagan
.
***
On this day in
1997
, in Miami, Florida, serial killer
Andrew Cunanan
guns down world-famous fashion designer
Gianni Versace
outside his home.
***
On this day in
2002
, so-called "American Taliban"
John Walker Lindh
pleads guilty to supplying aid to the enemy and to possession of explosives during the commission of a felony. Meanwhile, in Pakistan, an anti-terrorism court hands down the death sentence to British born
Ahmed Omar Saeed Sheikh
and life terms to three others suspected of the videotaped beheading of Wall Street Journal reporter
Daniel Pearl
.
***
On this day in
2003
, AOL Time Warner disbands Netscape. The Mozilla Foundation is established on the same day.