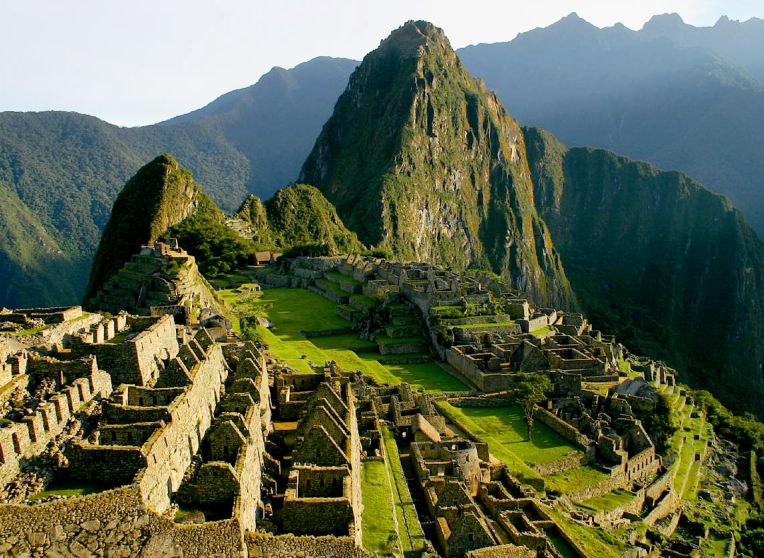 On this day in
1534
, French explorer
Jacques Cartier
plants a cross on the Gaspé Peninsula and takes possession of the territory in the name of
Francis I
of France.
***
On this day in
1847
, after 17 months tramping through the American wilderness,
Brigham Young
and his merry band of Mormon pioneers finally settle down in the Salt Lake Valley region of what would one day become the state of Utah. California sure dodged a bullet!
***
On this day in
1911
, explorer
Hiram Bingham III
finds
Machu Picchu
, the legendary Lost City of the Incas. Bingham was the well-to-do son of a Protestant Hawaiian missionary who became a gentleman scholar, a prolific author, a profoundly vile racist, a governor of Connecticut, a Senator at the federal level, and, finally, the real-life inspiration for the character of
Indiana Jones
. They don't make 'em like Bingham anymore.
***
On this day in
1915
, the passenger ship
S.S. Eastland
capsizes while tied to a dock in the Chicago River. A total of 844 passengers and crew are killed in the largest loss of life disaster from a single shipwreck on the Great Lakes.
***
On this day in
1922
, the draft of the British Mandate of Palestine was formally confirmed by the Council of the League of Nations; it came into effect on 26 September 1923.
***
On this day in
1959
, then vice-president
Richard Nixon
and Soviet leader
Nikita Khrushchev
engage in their infamous "kitchen debate" while standing in the middle of a model kitchen at the American National Exhibition in Moscow. Eventually, the two men reach a compromise, deciding to go with Krushchev's choice of enamel tile instead of the formica Nixon wanted, but in the sky-blue color pattern favored by Tricky Dick, rather than the deep red tones favored by Nikita.
***
On May 25, 1961, President
John F. Kennedy
said: "I believe this nation should commit itself to achieving the goal, before this decade is out, of landing a man on the moon and returning him safely to Earth." On this day in
1969
... mission accomplished.
***
On this day in
1967
, during an official state visit to Canada, French President
Charles de Gaulle
declares to a crowd of over 100,000 in Montreal: "Vive le Québec libre!" The statement, interpreted as support for Quebec independence, delighted many Quebecers but angered the Canadian government and many English Canadians.
***
On this day in 1998, Russell Eugene Weston, Jr. bursts into the United States Capitol and opens fire killing two police officers. He is later ruled to be incompetent to stand trial.
***
On this day in
2001
, real estate mogul
Larry Silverstein
signs a $3.2 billion, 99 year lease on the World Trade Center. It includes an insurance policy which specifically covers acts of terrorism, which was extremely fortuitous, because in 7 weeks the terrorist attacks of
9/11
would take place.
***
On this day in
2001
,
Simeon Saxe-Coburg-Gotha
, the last Tsar of Bulgaria when he was a child, is sworn in as Prime Minister of Bulgaria, becoming the first monarch in history to regain political power through democratic election to a different office.
***
On this day in
2009
, the
MV Arctic Sea
, supposedly carrying a cargo of timber but rumored to be carrying
far more disturbing cargo
, is allegedly hijacked in the North Sea by pirates - which hardly EVER happens - so much speculation remains as to the actual cargo and events.