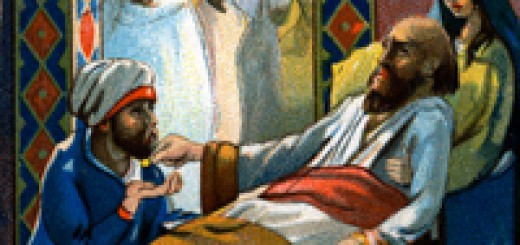 On this day in 632 AD, the prophet and founder of Islam, Muhammad, dies in Medina. His rule is succeeded by Abu Bakr, who becomes the first Caliph of the Rashidun Caliphate.
***
On this day in
793 AD
, the Scandinavian invasion of England begins when
Vikings
raid the abbey at Lindisfarne in Northumbria. These raids would continue for over a hundred years, until the Vikings convert,
en mass
, to Christianity, and become relatively docile almost overnight.
***
On this day in
1794
, French Revolutionary figure
Robespierre
inaugurates France's new state religion: the
Cult of the Supreme Being!
Despite coming complete with large organized festivals to be celebrated all across France, it fails to catch on.
***
On this day in
1949
, an FBI report names celebrities
Helen Keller
,
Dorothy Parker
,
Danny Kaye
,
Fredric March
,
John Garfield
,
Paul Muni
and
Edward G. Robinson
as members of the American Communist Party. Meanwhile, in England,
George Orwell
's prophetic dystopian novel
Nineteen Eighty-Four
lands on the nation's bookshelves and consciousness with the force of a rogue comet.
***
On this day in the year
1959
, the Navy submarine U.S.S. Barbero fires a guided missile carrying 3,000 letters at the Naval Auxiliary Air Station in Mayport, Florida. "Before man reaches the moon," one official opined at the time, "mail will be delivered within hours from New York to California, to Britain, to India or Australia, by guided missiles." And so it was, and so it always shall be. I mean, can you imagine a world without guided missile-delivered mail?!
***
On this day in
1967
, Israeli warplanes launch a savage attack on the
USS Liberty
, an American intelligence gathering ship, killing 34 of her crew and wounding another 171. Israel tried to claim it was a friendly fire incident… but
it wasn't
.
***
On this day in
1972
, Associated Press photographer
Nick Ut
takes his Pulitzer Prize-winning photo of a naked 9-year-old
Phan Thị Kim Phúc
running down a road after being burned by napalm.
***
On this day in
2004
, Venus transits across the Sun for the first time in modern history. The previous transit took place over a hundred years previous, in 1882. Because these transits happen in pairs, separated by roughly 8 years, the
2012
transit was the last one of the 21st century. There won't be another for a long, long time.